A wedding that is put together with a more rustic, outdoor atmosphere can be just as fancy and upscale as any other wedding if that is what the bride and groom are seeking.  This includes everything from the venue and decorations to the way the wedding invitation envelopes are addressed.  Even this seemingly inconsequential detail can go a long way to setting the tone and guests' expectations for your rustic wedding.
Set the Formality for Your Outdoor Wedding with the Envelope Addressing
The style that you choose to address the envelopes for wedding invitations can go a long way to setting the formality of the entire event.  If you are looking for a more formal affair, addressing the guests with "Mr. and Mrs." or "Ms." for an unmarried guest can lay the groundwork for a more formal event.  For married couples you may choose to use the man's full name with the greeting of "Mr. and Mrs.".  If your plans are for a more casual, laid-back outdoor wedding you can drop the formal address and opt to use simply the invited guest's first and last name.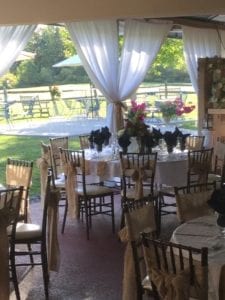 Invite Additional Guests with the Envelope Addressing
You can also use the envelope address to take the opportunity to let the invited person know that they can bring someone as a guest.  This may be inviting an entire family, children included.  In this scenario your addressed envelope can include "and Family" after the guests' names.  If you are sending an invitation to a single guest, the envelope can be addressed to your invited friend or family member, followed by "and Guest".
Putting some thought into the address on the wedding invitation envelope is just one more way to effectively set the tone for the entire wedding.
Whether you are planning a casual, rustic wedding or a formal outdoor event, Lippincott Manor can accommodate your needs.  To tour our facility or check availability contact 845-895-2474.