When most people think of an outdoor wedding they usually think about the summertime. However, late fall can be a perfect time to have a rustic wedding outdoors. With the beauty of the changing season and more comfortable temperatures, fall outdoor weddings can be a truly unique experience for the bride, groom and all of their guests in attendance.
Warm Beverages and Soft Blankets Can Make Sure Your Guests Are Comfortable
As long as you let your guests know beforehand that the wedding will be taking place outdoors, in a more rustic setting, they will be able to plan accordingly. Guests can dress for cooler weather, leaving them comfortable throughout the ceremony.
Fall outdoor weddings offer you the opportunity to add even more amenities and comfort for your guests. Serving hot beverages from the standard coffee and tea to apple cider and hot toddies is sure to keep your wedding guests warm and feeling great. Another nice touch is to have warm blankets and wraps available for guests to borrow.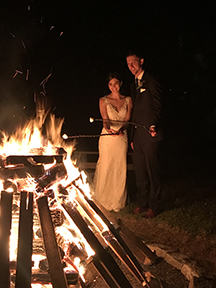 The Perfect Setting for an Outdoor Bonfire
A bonfire can truly set the scene for an outdoor wedding in the fall. From the opportunity for guests to warm comfortably by the fire to toasting marshmallows and enjoying s'mores, a bonfire is a fall wedding attraction not to be missed. This can further set the ambiance for a rustic wedding with the surrounding foliage.
All of these added amenities can take some of the chill out of the air, making an outdoor fall wedding one to remember. The bride and groom can also be more comfortable without the sweltering weather that summer often brings. Instead crisper temperatures of fall will ensure that everyone is looking great for those wedding photos.
Lippincott Manor is the ideal location for a rustic, fall wedding, with beautiful scenery to hot food and beverage service and the all-important bonfire. Contact Lippincott Manor at 845-895-2474 for more information.