Couples planning their wedding may be overwhelmed with the many decisions that go along with putting together the big day.  One of the most critical decisions is choosing a wedding venue.  Many couples are drawn to a location that offers a picturesque outdoor setting, making their wedding one to remember.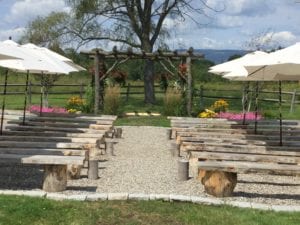 Consider Scenery and Location When Choosing an Outdoor Wedding Venue
The venue that you choose for your outdoor wedding should offer not only wonderful facilities, but also picturesque scenery.  Whether you are planning a rustic wedding or country chic, the location can set the tone for the entire wedding.  Lippincott Manor offers the ideal setting for an outdoor wedding, nestled in the Hudson Valley, with views of the Wallkill River and Shawangunk Mountains.  Combined with one-of-a-kind décor in this picturesque setting, the outdoor wedding of your dreams can become a reality.
Amenities, From Catering to All-Inclusive Packages Are an Important Consideration
While location is a big factor in choosing a wedding venue, equally important are the amenities that the facility has to offer.  Couples searching for the ideal venue should look at catering packages offered by the facility, ensuring that this meets their expectations for the wedding.  This may be a buffet dinner or butler passed hors d'oeuvres during a cocktail hour.
Some venues also offer all-inclusive wedding packages, which include the venue, food, entertainment, florist and photographer.  This option often offers a more affordable approach to wedding planning for the couple.  At Lippincott Manor we pride ourselves on making sure your big day is a success.  This includes a full selection of meal and catering options, as well as all-inclusive packages to choose from.
The venue that you ultimately select will be a big factor in making the wedding of your dreams become a reality.  To check availability or for a tour of the grounds, contact Lippincott Manor at 845-895-2474.