How do you pick a wedding theme that's actually one you're going to love? You might know right off the top that you're going, say, full Harry Potter theme. In which case, would make for a brilliant wedding.
As for  everyone else, you can start by looking into general styles that may interest you. Are you thinking outdoors and rustic country chic; or do you prefer a little vintage glamour?
Perhaps you and your fiance are a nerdy duo who envisions their wedding with magical games and decor.  There have also been many popular themes in past weddings such as Alice in Wonderland and even Game of Thrones.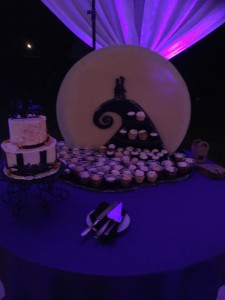 Above is a recent photo of a Nightmare Before Christmas themed wedding we had here recently.  This cupcake stand was made by the groom himself!
If you or your fiance are in or have been in the services we at The Lippincott Manor take huge pride in SUPPORTING OUR TROOPS!  Perhaps you'd like to make this your theme instead, as it is so beautiful. Maybe seeing your partner await you dressed in their best uniform to make for a magical pictures and an honoring, sensational day.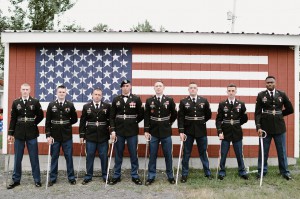 Picking out wedding themes can be one of the hardest planning tasks that every bride and groom is faced with. Some couples prefer the romantic route.  Some couples like to keep things fresh and modern. When you pinpoint the theme of your dreams, you can officially move forward with the rest of your wedding planning. But, if you're still on the fence about which direction you want to go for your big day discuss with your partner your favorite themes. Picking a theme is the best way to start your planning process.